Keelung's first enterprise-specific coffee smart FUN machine landing in CTE
2022.04.29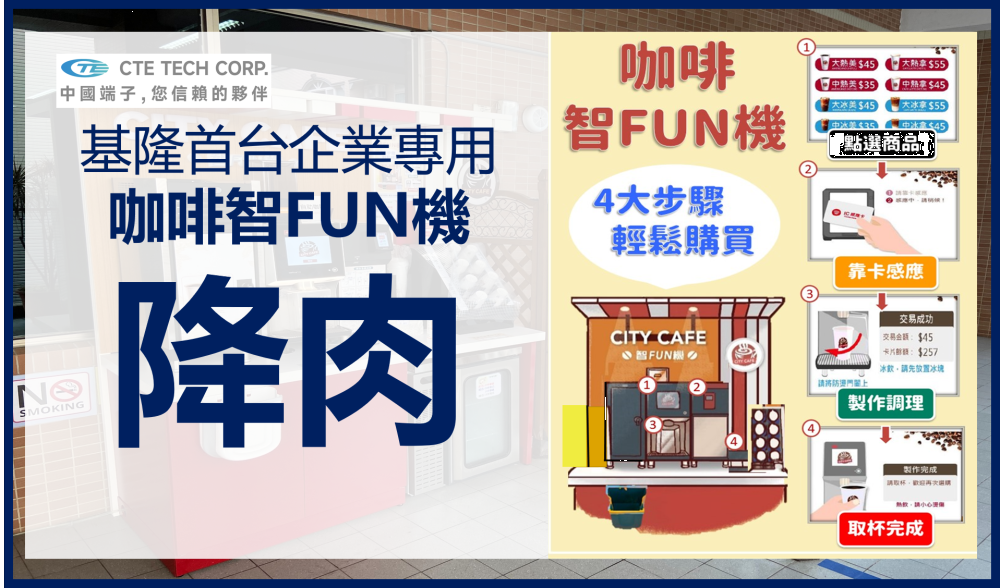 CTE has always regarded itself as the first-choice happy enterprise in Keelung for local employment. Therefore, CTE has continued to work hard to take care of the daily needs of employees, in order to provide employees with a novel, fresh and convenient workplace environment and benefits through more new cooperations.
This time, through cooperation with 7-11 partners, the installation of the first enterprise-specific coffee smart FUN machine in Keelung District has been completed. In addition to providing employees with more choices for their daily coffee drinks, it also continues to pay attention to epidemic prevention. Reduced contact, the effect of fresh self-help.
Through the simple operation process of self-service coffee, employees feel that it is simple and easy to use after experiencing it, and it is because of the early adopters of new equipment that employees have new entertainment options when they are in break.
In addition, this cooperation case has more exclusive discounts. Employees can enjoy all the products in this smart FUN machine at a discounted price, hoping to give employees more benefits.
Introduction of CTE special coffee smart FUN machine:
Location: Inspiration lounge area on the second floor
Product Options: Iced/Hot Americano & Iced/Hot Latte
Product size: medium and large cups
Price: discounted price
Payment method: Only electronic payment is supported, no cash coin-operated
Opening hours: 24 hours/day, 7 days/week, almost all year round.
Last but not least, a warm reminder that the top 30 colleagues who buy 2 cups at a time (check in on FB or provide photos) will have exquisite gifts. (Quota is full)
#keelung's first choice for local employment / #employment first choice / #happy enterprise / #keelung job search first choice / #keelung employment first choice / #employee welfare / #self-coffee / #zhifunmachine
CTE General Management Office invites you to have a coffee break. 
Back to article list